INTERVIEW WITH JIMMY DOLIER
MASTER BREEDER OF HORSEMAN.
By Donald Renwick
Dumfries, Scotland

In November this year I had the pleasure of attending the Airdrie and Coatbridge Fancy Pigeon Society's 30th Annual Show. While at the show I took the opportunity to interview Jimmy Dolier, who had invited me to be his Steward. You will notice that this interview doesn't contain many words but I believe that the pictures speak for themselves. I read somewhere that you get back what you put into this hobby of ours. One look at Jimmy holding his Master Breeder certificate shows you how much he has put into his.

Jimmy with Master Breeder Certificate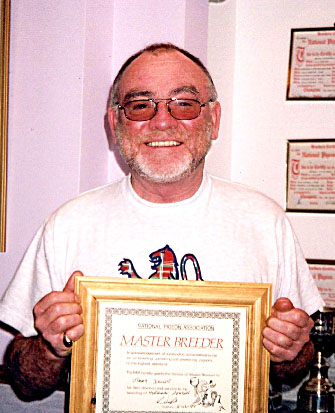 With over 40 years experience of flying and breeding good working thief pigeons and good exhibition stock, Jimmy was finally awarded his Master Breeder's award on the 5.12.99 at Doncaster show for the devotion and service to the breeding of Horseman Pouters.

Jimmy's Master Breeder Certificate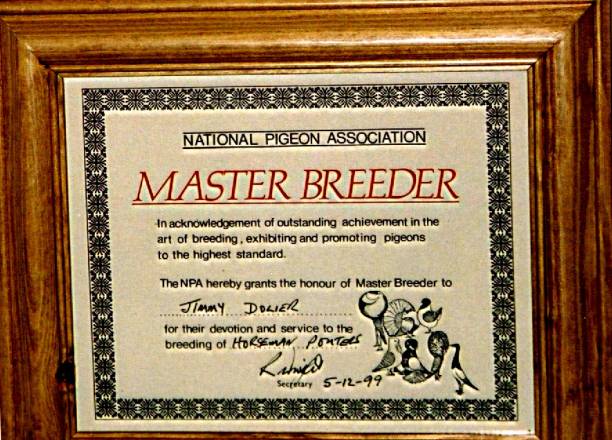 I asked Jimmy, "what it takes to become a Master Breeder?"
Jimmy replied, " Hard work, dedication and a good eye!"
I asked Jimmy for advice on stock management and loft environment.
Jimmy's reply
Ø Keep it simple.
Ø Keep it clean.
Ø Keep it dry- Jimmy uses Harkers loft compound to help with this task.
Ø Keep it airy.
Ø Clean water and good food.
Ø Spray birds and loft fittings for lice and mites regularly.
Ø Garlic's not bad either!
Ø Treat for worms, cocci, and canker before breeding season and before the moult.
Ø Keep the number of birds as low as possible, don't over crowd.
Jimmy feels that the best policy (how ever hard it may be) is to cull rather than cure. Health and vitality should be another selection consideration in the breeding loft and only the healthiest and fittest birds should be bred from and kept! This may be a factor with the current disease problem that is sweeping the country, as may be the over use of antibiotics.


A bird in the hand.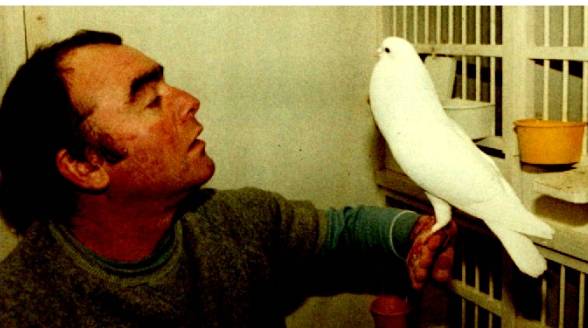 A Horseman's eye view of Jimmy's house and garden, showing the loft and aviaries on the left hand side of this picture.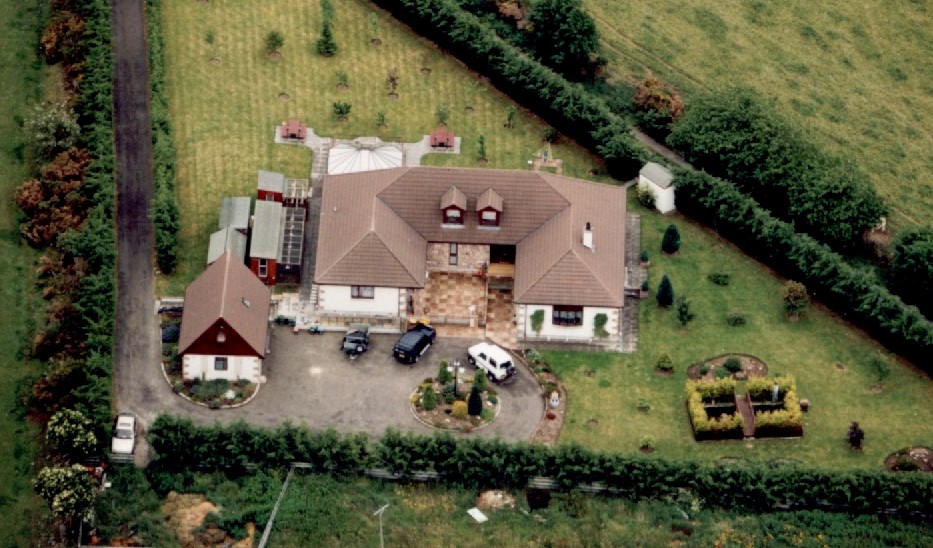 A view of the Gardens and Dovecote!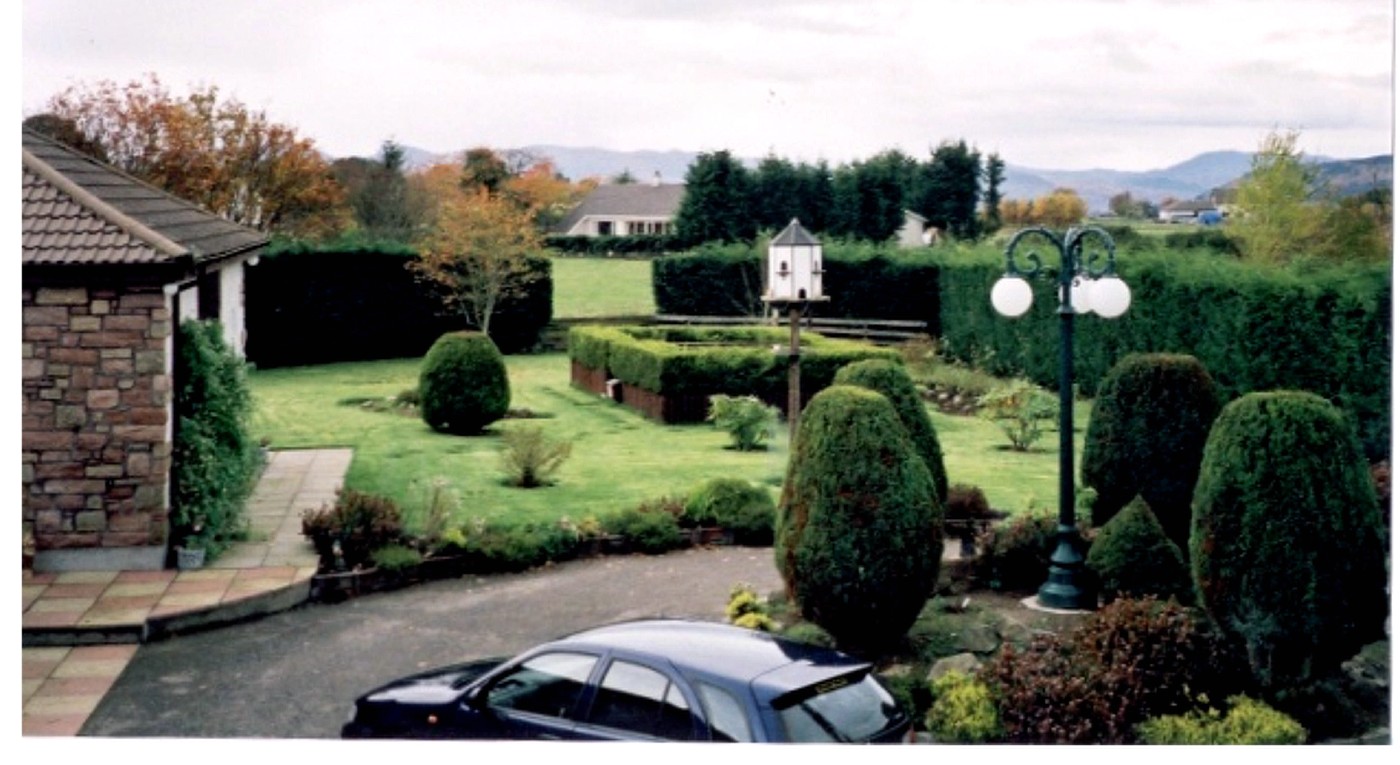 Here is a closer look at the hanting pen. Note the rope for opening and closing the pen.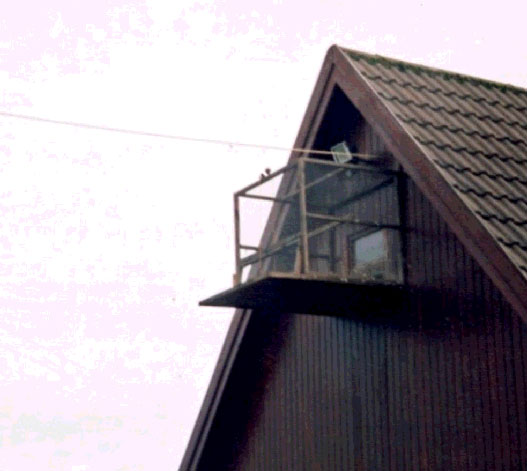 Here is a side view of the pen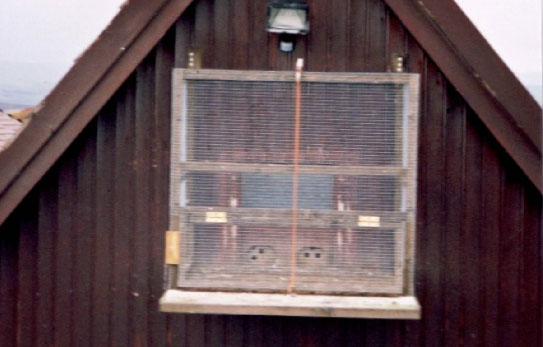 The new extension
Jimmy has recently built this new loft and the aviaries.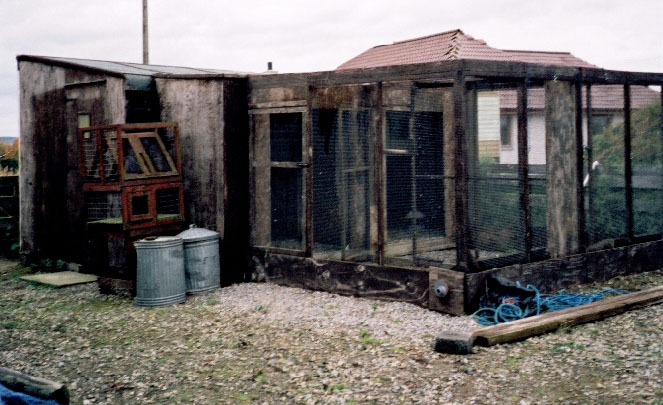 The penning room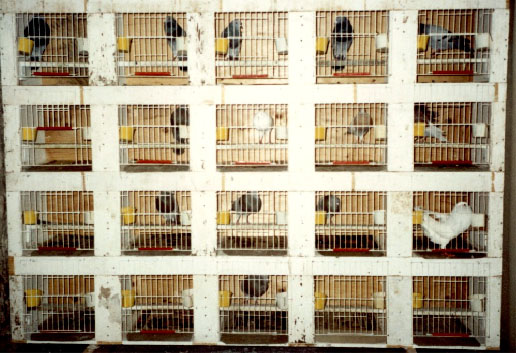 Here you can see Jimmy's lofts and aviaries. In the background you can see the hanting pen.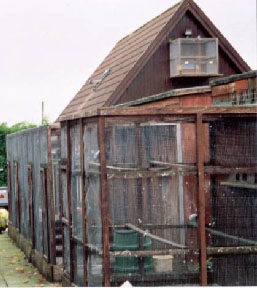 Jimmy flies from either end of the building as can be seen in the photograph below.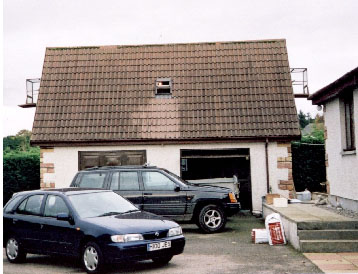 Now a closer look at the birds

A proud Ash Chequer hen –National Champion (5 NPA Certs)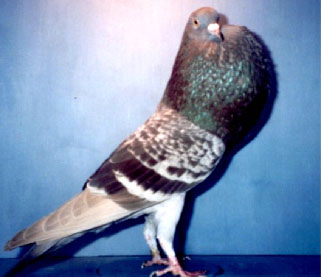 Sunset Dun hen National Champion (7 NPA Certs)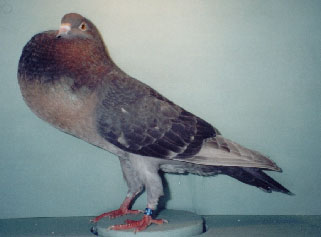 Chequered cock. National Champion 5 NPA Certs
Young black cock, 4 months old, moulting.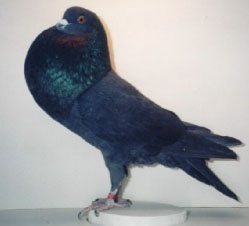 3 NPA Certs – 2 to go until National Champion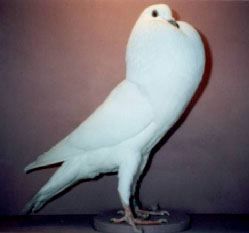 Young hen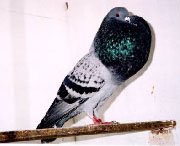 Khaki bar hen National Champion – 9 NPA Certs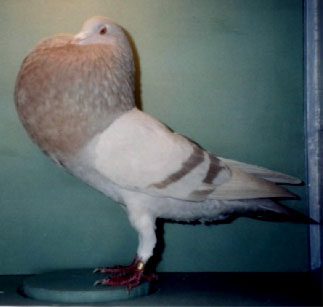 I had the honour of stewarding for Jimmy at the recent Airdrie and Coatbridge Fancy Pigeon Show on the 4/11/00 and learned a great deal from this experience.
Jimmy explained what to look for (or select for during breeding) – "you are better going for shortness of the leg, birds that are not to long in the back and with wings tight to the body." Jimmy then pulled his shoulders in and showed me what he meant.
More Good Advice From Jimmy
Jimmy also says that it is a very good idea to hold on to your young birds until they have completely finished their first moult. It should be remembered that the first moult is the most stressful of all, and they should be allowed to complete this in the environment they were raised in. When young birds are sold and transported to new lofts the stress of this can lay them wide open to infection in their new loft, especially if this move is combined with the stress of their first moult. Young birds are used to bacteria in the environment they have been raised in and by leaving them to complete the moult before they are sold on, their immune systems are better at coping with the new bacteria they will come into contact with in new homes.
Another good reason for hanging onto your young birds concerns the difficulty in sexing young Horseman. Most of you will know what is meant by this, one moment the young Horseman is behaving like a cock, the next its behaving like a hen, and the next again, a cock again. Even experienced fanciers can find it hard to tell given the promiscuous behaviour of the Horseman. Sometimes Young cocks will pair to cocks and hens to hens and sometimes even young cocks will" go down for the tread" for their owners. Indeed often a young hen can only be definitely sexed when she lays her first egg. By waiting until you are positive about the sex you can save yourself the hassle of irate buyers of stock complaining that they have been sold two cocks instead of a pair even though this is a genuine mistake.
Something for the new owner of young stock to consider after they have ensured that the birds have recovered from the ordeal of their journey to their new home is that they are kept with birds their own age instead of just putting them in with stock of mixed ages. This ensures that the old cocks don't knock the hell out of them, as they are strangers in "the colony" and lets them settle in better, although one should always keep a close eye on the introductions.

Some of the places Jimmy has flown from
A pair on a cavy!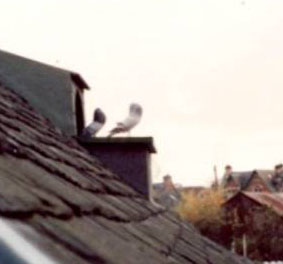 View from a roof.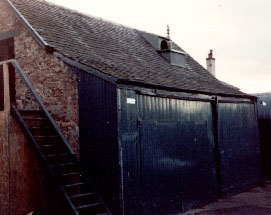 The cavy is closed!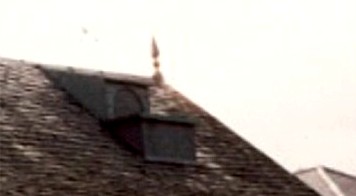 View from a shed.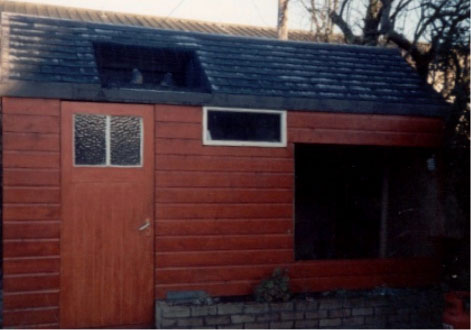 This is a picture of Jimmy with all of his trophies and certificates and it just goes to prove how far you can go with hard work and dedication. The skies the limit!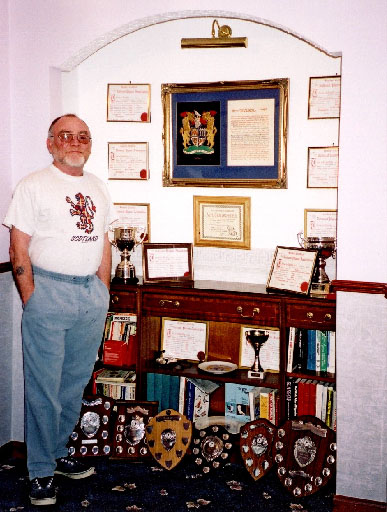 Jimmy mentioned earlier that it takes hard work and dedication to be a Master Breeder. I would agree with this, but I think it takes vision as well. To be able to see the perfect Horseman in your mind and mould your stud towards this goal is an admirable skill indeed. As it says in the Master Breeder's Certificate, "For the devotion and service to the breeding of Horseman Pouters. An achievement well earned."
I am glad Jimmy has championed the Horseman for all these years and he is rightly proud of his achievements on the show circuit. I hope people have learned something from this interview or at least enjoyed the pictures!
If you have become fascinated with the Horseman Pouter, as I have, then please contact the club at:
Mr Jimmy Dolier,
Highfield Park,
Conon Bridge,
Dingwal,
Ross-shire,
Scotland,
IV7 8AW
OR
Donald Renwick at:
donaldshorsemen@btinternet.com

National Horseman Pouter Club Web Site:
http://www.zyworld.com/nhpc/index.htm